[ Home ] [ Things To Do ] [ Reservations ] [ Local Attractions ] [ Directions ]
Click here for upcoming Taylorsville events
Click here for Statesville Calendar of Events

Hiddenite Gems (828-632-3394) located in nearby Hiddenite, NC is full of wonderful treasures. Kids of all ages can go creekin', sluicin' and diggin' for quartz, emeralds, and rubies! It is a fun time for the entire family. Jewelry shop and gift shops are also located on premises.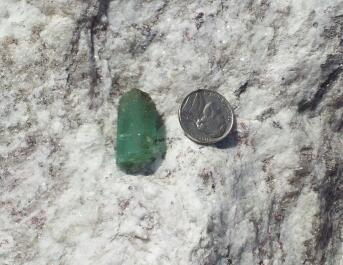 Emerald found By one of our campers
Hiddenite Center/Lucas Mansion (828-632-6966), a folk and cultural arts center, is located in a turn-of-the-century Victorian house. An exhibition of native gems and minerals features a 294-pound Carolina crystal! A doll collection dating from the 1800s recaptures the history and heritage of yesteryear. The changing exhibitions of the gallery allow visitors to mesh the history and heritage of the past with the art forms of today.
Rocky Face Park (828-632-1093) Outdoor recreation (including geocaching and rock climbing), educational opportunities, and quality leisure opportunities
Daniels Ridge MX (828-635-8635 Daniels Ridge MX is an all lighted facility offering bike wash, concessions, block building rest rooms and both tracks have a full sprinkler system to keep them in ideal shape.
Love Valley (704-592-7451) is a place where cowboys and their horses roam the dirt streets. This is an authentic western town, complete with dirt roads, saddle shops, a trading post, and rodeo arena. There are no cars allowed, so you must ride a horse (rentals available) or walk. You have got to see it to believe it!
Linney's Mill (704-592-2075) is one of the few fully operational and producing mills in existence in North Carolina. You can watch the huge mill as it does its work from their swinging bridge and purchase their flour at their Mill Store.
Day Trips (Within 50 Miles drive)
Zootastic Park is now OPEN for Pre-Season, March and April in which we will be open on Saturdays and Sundays. Group reservations can be made for Monday - Fridays during this time. COME VISIT THE ANIMALS NOW!!
Daveste' Vineyards Tasting Room and Art Gallery Daveste' Vineyards' vision is to offer preferred premium wines to wine enthusiasts from around the world-Wine Tasting and Special Events
North Carolina Animal Park | Lazy 5 Ranch The Lazy 5 Ranch is a one of a kind animal park located in North Carolina. Enjoy getting up close to wild animals while enjoying a horse drawn wagon ride or driving your own car.